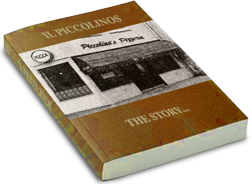 From Warwickshire's finest Sicilian & Italian 'family run' Restaurant and Pizzeria.
Il Piccolinos' Pizzeria and Restaurant was established in 1979 in Leamington Spa, with the Warwick restaurant opening in 1982. It is a family run business which spans two generations. It was created by Domenico Urso, who in true Italian tradition, passed down his passion for food to his two sons, Salvio and Arturo, who joined him in the business in 2002. His five young grandsons are also now frequent visitors, keen to sample the tastes of their Sicilian heritage. However, Piccolinos' roots and influences stretch back much further in time.
Domenico was born in a rural village, Ciminna, set deep in the heart of the Sicilian countryside. Raised on a farm, Ballaronza, where fresh produce was cultivated and traditional cooking was a family affair. "Mama Pasqua" raised the family of six children on a diet straight from the land.
It is this home cooking that inspired Domenico to share his knowledge and love for the Sicilian Cuisine, with the creation of Piccolinos. The result has been three decades of dedication, producing delicious, freshly cooked foods from only the best ingredients.
Piccolinos has been described by many locals over the years as; " their hidden gem, which transports them into Italy when they walk through the doors." The atmosphere is always inviting, lively, yet romantic. Whilst, always embracing families generation after generation.
It seems the Italian experience has translated perfectly into English with Piccolinos!
Some of our foods contain allergens, please speak to a member of staff for more information.
TO BE CONTINUED…